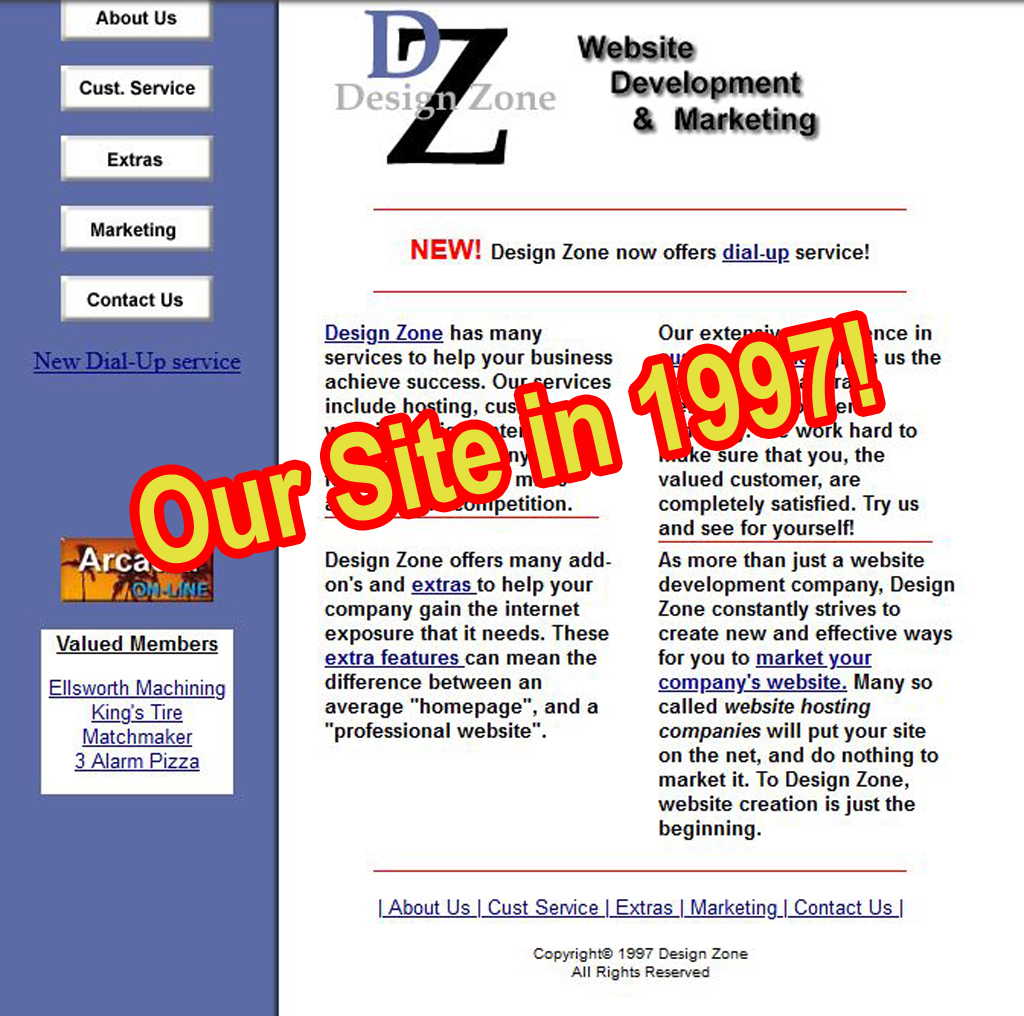 About Us
DesignZone has been around since 1997. Although we can all have a good laugh at the site design of the times and the "dial-up service", DesignZone has stood the test of time. Although we no longer do Web Marketing, we were one of pioneers of what was the World Wide Web!
While we are still focussed on small business, we have collectively added decades of experience to our arsenal. We design sites, develop sites, provide website and database hosting, and offer infrastructure services with AWS. We can build your servers, provide load balancing, and provide redundancy, backups and security, giving you total control over your company's web environment. We also have contacts for web marketing and SEO.
Services
We do custom programming using PHP, Laravel, and other languages including WordPress customization and a lot more.
If you have a small business, you need access and ownership of your information at all times. We do System Administration tasks, critical updates, backup, load balancing, firewalls, maintenance and more.
Whether you need a quick WordPress site, a professional custom website template, or groud-up web design, we have you covered.
Frequently Asked Questions
Why can't I just create a WIX site and save myself some money?
You can! You absolutely can. If you have next to no budget, that might be a great way to get started. When you're serious about investing in your business and giving your customers the best experience possible with a professional site, we'll be here ;)
I just need a page. I don't need a full site.
If you just need a presence, you might consider using Facebook or Instagram. Not everyone needs a website. We don't want to sell you what you don't need, and it is important for a new business to save money; trust me, I've been there. When your customers or business partners start asking why you don't have a site and you're ready to spend a little extra cash to establish a professional web presence, and compete with the big dawgs, we're here for you! At that time, a professional site can enhance and compliment your existing social media presence.
I have a site already, but my web host is terrible. Can you help me?
Yes, 100%. Let us know what you have and we can get it transferred and we can start doing the maintenance work. This way you can enjoy better uptime and focus on what's important for your business, like acquiring new customers and servicing existing customers! Let us do the busy work for you.
Web Design is way too expensive, but I really need a site. What can I do?
We have access to all sorts of templates that may suit your needs. Contact us and we can show you how. In fact, we didn't even create this site! We wanted to show you what we can do with a template. We just modified it to suit our needs. There are always lots of options and we can make suggestions to save you and your company money.
I don't know what I want! Help!
Don't worry! You're not alone. Many clients have this issue and they just need to be guided in the right direction. We can help! Not only have we designed over 1,000 websites but, we've also been on your side of the fence and run our own businesses. We can help you start small and grow your site into what it needs to be over time. We got you covered!
Hey, I'm a decent Web Designer. Are you guys hiring?
We are always on the lookout for good talent. Contact us and let us know what you're looking for and what you feel your time is worth per hour. Have a portfolio? Great! Just getting started? Send us a message anyways because you just never know. We all had to start somewhere.